XVC HDMI encoder single/dual
The XVC-HDMI Encoder supports AVC H.264 1080p60 Full HD resolution, with single or dual 3G-HDMI inputs.
The XVC-HDMI offers low power consumption and robust industrial design. The encoder is ideal for any  field-based video streaming applications.
The portable XVC-HDMI features a unique design with no moving parts, is 100% silent, and is optimized for low-latency distribution of HD and SD video sources. The XVC-HDMI Encoder disseminates IP video at broadcast-quality resolutions at a wide range of bit rates and frame rates.
The XVC supports multiple streaming protocols including RTP, RTSP/RTP, and RTMP, enabling the user to stream virtually to any endpoint.
The XVC-HDMI offers the best price/performance ratio, thanks to its rich set of features and advanced algorithms.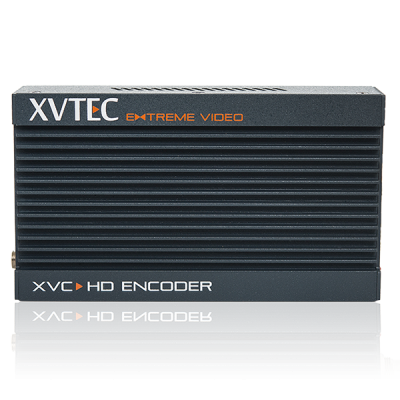 Typical usage of the HDMI encoder
Typical usage of the HDMI Encoder
Point-to-point video contribution
1080p60 Blu-ray quality video over IP network
H.264, base line, high and main profile
Advanced algorithms for maximizing bitrate and image quality
Advanced 3D noise reduction
Single/dual HDMI inputs
Ultra-low end-to-end latency < 120 ms
Low switching time
RTP, RTSP/RTP, MP2TS and RTMP streaming protocols
Web interface/HTTP control
24/7 reliability with no moving parts